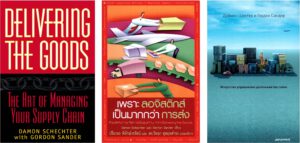 English Edition | Thai Edition | Russian Edition
"While it's difficult to top Sander's Pulitzer nomination and Schechter's Stanford degrees, we must gladly admit that your book ROCKS!"
—Tom Peters Company
"The supply chain is corporate America's last frontier. Conquering it is the key to reducing costs and maximizing profits. Damon Schechter and Gordon Sander have done a remarkable job of demonstrating the importance of supply chain management—to today's business. They also show how the art of supply chain management evolved out of the military art of logistics, and how the most successful military leaders, from Alexander the Great forward, were, for the most part, successful supply chain managers as well. Great reading and a must for any forward-looking business executive's library."
—William "Gus" Pagonis, Senior Vice President of Supply Chain Management, Sears, Roebuck and Co., and Lieutenant General, U.S. Army (retired)
"Delivering the Goods is an important milestone in helping educate business executives in the importance of logistics. Schechter and Sander skillfully articulate both the historic and contemporary value of logistics, making the book a must-read for any executive looking to enhance customer satisfaction and reduce the cost of doing business."
—Yossi Sheffi, Director, MIT Center for Transportation Studies, and recipient of the Distinguished Service Award, Council of Logistics Management
"With Delivering the Goods, Schechter and Sander have taken a previously neglected aspect of business and shown how supply chain management can transform an enterprise. Using examples from military history and modern industry, they show conclusively that sound logistics and their Tri-Level View can improve any organization's bottom line."
—David Kelley, Founder and CEO, IDEO Product Development, the creators of the Apple Mouse, and Professor, Stanford University Product Design program
"Logistics is the basis of strategy in the business world, as well as the military. In Delivering the Goods, the authors accord it the importance it deserves."
—Sir John Keegan, bestselling author of The Face of Battle and A History of Warfare
"A fascinating history of logistics coupled with a pragmatic approach for turning your supply chain into a strategic differentiator. This is a great book to get marketers and supply chain leaders on the same page!"
—Ralph Drayer, former Chief Logistics Officer, Procter & Gamble
"Damon Schechter and Gordon Sander have made a valuable contribution to management thought. Their book, Delivering the Goods is exceptionally clear. Readers who had the benefit of learning logistics during their military service will appreciate the attention that this book provides. Other readers will benefit from their application of the Tri-Level View which the authors use to extend business logistics into supply chain management. The Tri-Level View is an interesting concept, one that is fresh."
—Robert Delaney, author of the annual State of Logistics Report
"The book is terrific and fun to read. Damon Schechter and Gordon Sander discuss past business logistical practices of firms like Ford and Sears, and ask why so many firms today have not followed in their footsteps, given current market realities. The book is bound to enlighten all those looking for a better understanding of what it takes to compete and survive in today's marketplace."
—Robert Tamilia, Professor of Marketing, University of Quebec at Montreal
"Delivering the Goods is reminiscent of my entire 30 year career in logistics, from the military's longtime mastery of the field, to the business world's recent recognition of its strategic importance. This is the first book I have read which contains an insider's perspective of both the military and business facets of this exciting field. It is an excellent primer for what is likely to be the most important field of business management during the coming decade."
—John Kenny, Vice President of Logistics, 3Com Corp.
"Supply chain management has become the key differentiator for today's competitive business world, and Delivering the Goods is one of the best books that I have read for conceptualizing this often misunderstood field. Schechter and Sander have refreshing viewpoints, drawing a particularly great analogy between military and business logistics."
—Hokey Min, Executive Director, Logistics and Distribution Institute, U. of Louisville
"Effective, integrated supply chain management can and does generate enormous value for organisations, particularly those with global distribution needs. The authors creatively compare modern business cases with military-based logistics scenarios to demonstrate the need for supply chain efficiency and the importance of logistics for today's managers."
—John Allan, Chief Executive, Exel
"Damon Schechter and Gordon Sander have clearly illustrated the importance of logistics and supply chain management to business success. The historical context demonstrates how logistics and supply chain skills are both critical today just as they were in the past. In addition, the Tri-Level View provides managers a framework for better management."
—Donald Rosenfield, Director, MIT Leaders for Manufacturing Fellows program, and author of Modern Logistics Management
"Damon Schechter and Gordon Sander get it…business is war! Companies like Wal-Mart, Procter & Gamble and Toyota have created tremendous shareholder value by embracing supply chain management as a competitive weapon. In Delivering the Good, the authors skillfully convey the elevation of logistics as a key differentiator on the battlefields of business based on the lessons of successful military campaigns."
—John Lanigan, CEO, Logistics.com, and Commanding Officer of a Coast Guard Port Security Unit during Operation Desert Storm
"Damon Schechter and Gordon Sander bring a fresh approach to business logistics. Their tri-level model and analogies to military logistics ensure their book is far more insightful and interesting than a typical 'how to' tract."
—Graham Sharman, Professor of Logistics and Supply Chain Management, Technical University of Eindhoven, The Netherlands
"Both as a consultant and a venture investor I have seen the critical importance of supply chain management in creating competitive advantage for the few who master it, as well as the disadvantage for the many who do not. Delivering the Goods is all about obtaining that advantage."
—Geoffrey Moore, Venture Partner, Mohr Davidow Ventures, and bestselling author of Crossing the Chasm
"Damon Schechter and Gordon Sander have delivered a very readable and entertaining book that examines the importance of logistics in supply chain management. The examples are lively and comprehensive and the authors' tracing of the development of logistics in the business enterprise is a fascinating and informative narration that makes "history come alive." Overall, Delivering the Goods is a recommended read for those involved in the day-to-day practice of supply chain management."
—James Stock, Professor of Marketing & Logistics, University of South Florida, and co-author of Strategic Logistics Management"Damon Schechter and Gordon Sander take the reader on a far ranging historical ride, highlighting the importance of logistics to military victory through the ages. What is the relevance of this to modern business? Critical, the authors argue, and provide insights and tools aimed at improving the performance of both public and private enterprises today."
—Sheila Widnall, Abby Rockefeller Mauze Professor of Aeronautics and Astronautics, MIT, and Secretary of the U.S. Air Force, 1993-1997
"Delivering the Goods uses historical perspectives and concise case examples to bring a much-needed clarity to the definition of logistics, while also presenting a compelling case for the value that can be gained by managers who improve logistics as a top business priority. The core tenets of this book represent the same values and business-results orientation that are key drivers of Ryder's worldwide logistics and transportation solutions."
—Gregory Swienton, CEO, Ryder System, Inc.