In short: 3D printing is the most exciting logistics technology I've seen for completely reinventing a supply chain. We can pick any specific supply chain, explode it on a white board, and likely circle two or three best places to hyper focus on 3D printing solutions with a high confidence the effort is worth it. Commercial aerospace manufacturing has emerged as a key growth area. But industries like homebuilding, car-making, medical supply, footwear and even food are fast embracing 3D printing. Large shipments of semi-finished goods or higher concentrations of materials can be transported for later finishing. And products can be swapped entirely for others that require less transportation and unit complexity.
3D printers make it easier to manufacture low volume, customer-specific items, that are capable of much greater complexity than is possible through traditional means. This at once eliminates the need for high volume production facilities and low level assembly workers, thus cutting out at least half of the supply chain in a single blow.
Let's look at a few examples of what's coming down the pipe:
Hype Cycle for 3D Printing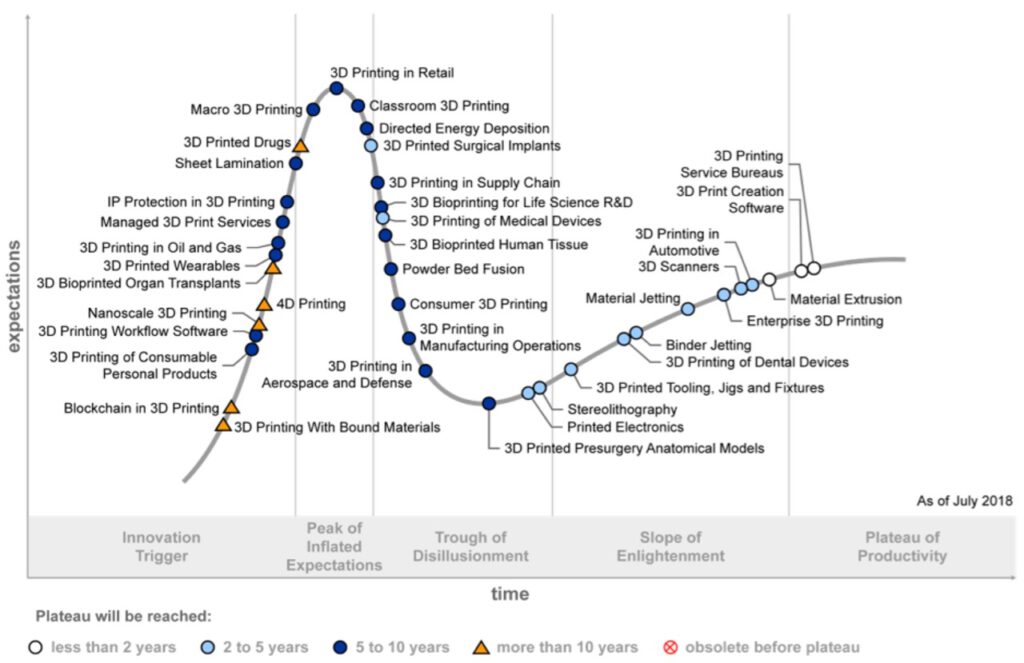 Source: Gartner
Houses
ICON built the first-ever 3D printed house in under 24 hours for less than $4,000. They expect to launch in 2020, and are pitching themselves as affordable housing for the homeless.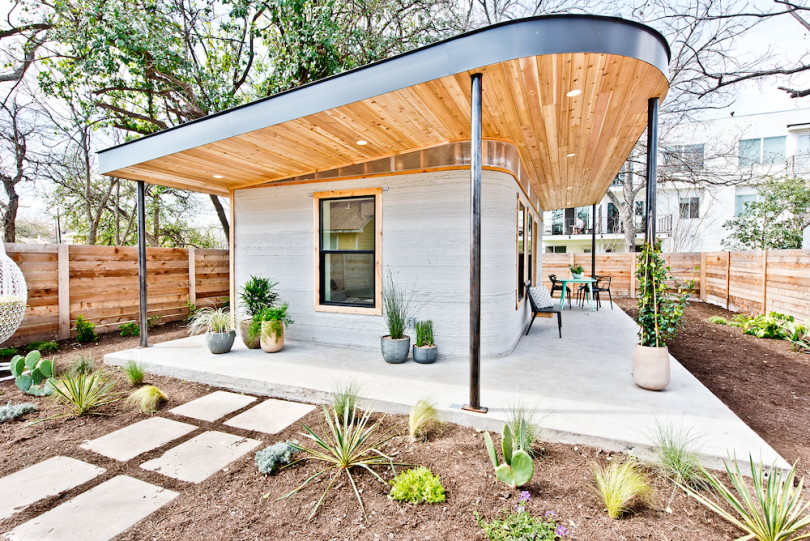 Orthotics
Aetrex Worldwide acquired 3D-printing foot-support startup Sols in 2017. A computer vision-enhanced foot scanner named Albert draws up an ideal blueprint for each customer, then a printer kicks out the customized orthotic.
Cars
Divergent is working on 3D printing as much of cool looking cars as possible. They've already accomplished "printing" the chassis and body of a car.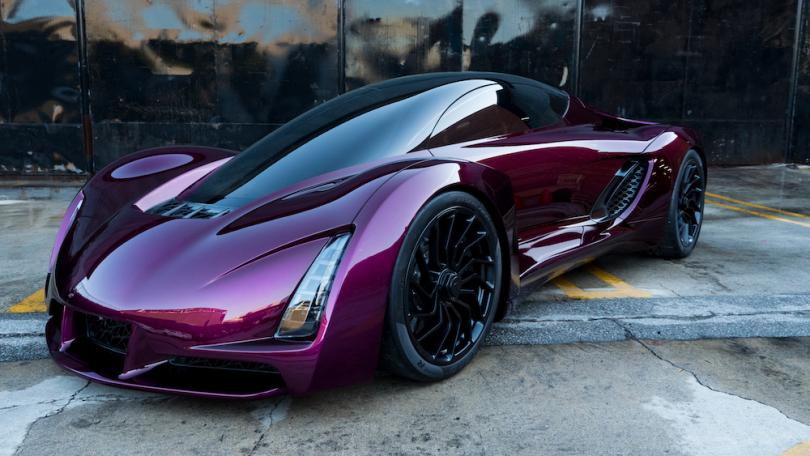 Dental Accessories
FormLabs supplies its popular Form printers to Ashford Orthodontics, the UK's largest orthodontics lab, which uses them to print bridge models, surgical guides, retainers, dentures and other dental devices at scale.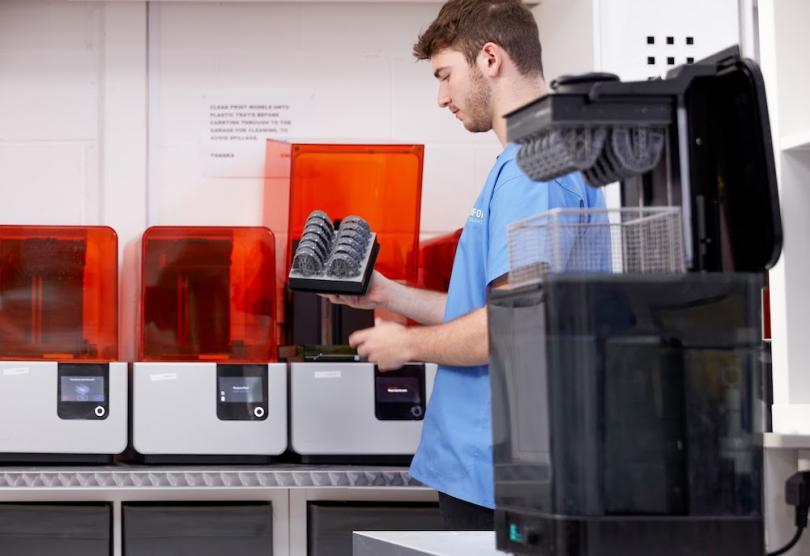 Food
PixSweet lets customers design and print up custom 3D ice pops. And Natural Machine's Foodini is specifically designed to print food using fresh natural ingredients.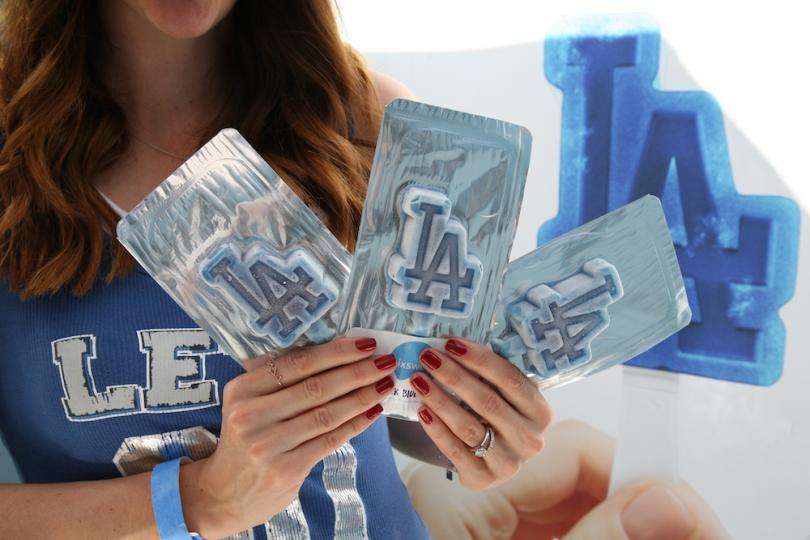 Jewelry and Housewares
Shapeways is a printer-on-demand service for craftspeople. The company recently integrated with Etsy, letting anyone submit DIY 3D models and pick a material and finish. It then prints objects in far better quality than a consumer-grade printer.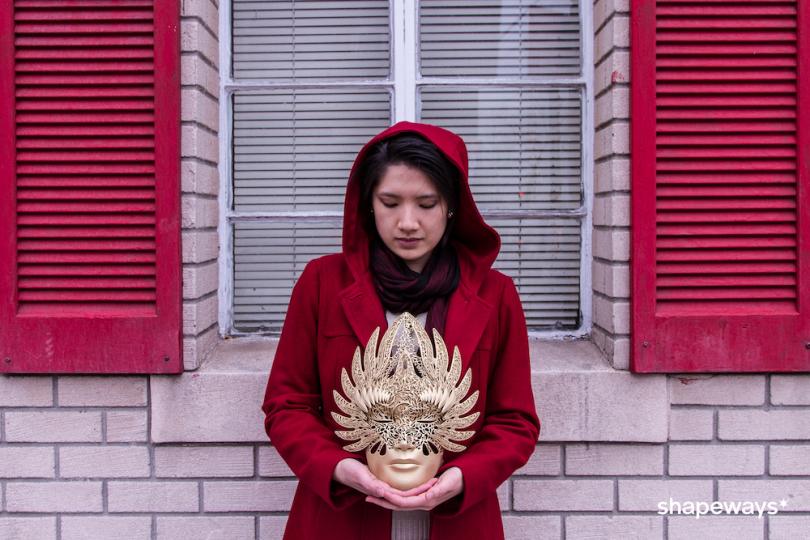 Also read how 3D printing is disrupting the $12 trillion manufacturing industry.
3D printing technology is evolving fast. We're already seeing enormous buildings being printed, living tissue, and inflatable silicon materials, and layers of plumbing and electricity sandwiched between surfaces. What used to take hours, now only take minutes to print. Where do you see an opportunity to make a supply chain drastically faster, better or cheaper with 3D printing? Please visit my office hours and continue this conversation.